Back to School Sign Up
August 10th – August 18th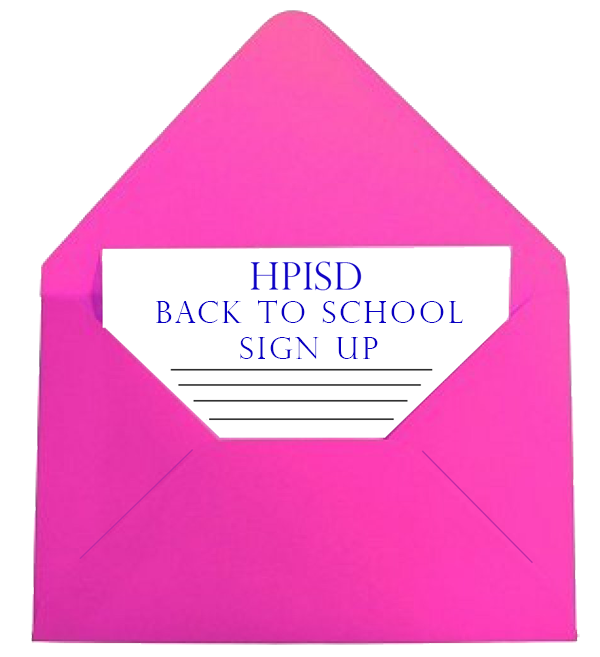 Back to School Sign Up (BSSU) for the 2017-18 school year is August 10-18. It can be completed anywhere in the world using a phone, iPad, or computer and is accessible 24 hours a day. Log in to the BSSU system using the parent's Skyward username and password.

In July, HPISD will mail instructions to each family household in the district on how to complete Back to School Sign Up. The instructions, including your Skyward username, will arrive in a bright pink envelope via U.S. Mail. Letters are mailed to the most recent address on file.

All households should complete Back to School Sign Up, including both parents in divorced households.

Passwords are not provided in the mailed letter in order to protect confidential information. If you do not know your password, there is a "Forgot Your Login/Password?" link on the Skyward login page. Your password will be sent to the email address on file in Skyward. If you do not know your password and the password reset option does not work, please contact the help desk at 214-780-4040 or myhponline@hpisd.org.

Back to School Sign Up allows parents a convenient one-stop shop to provide important information to HPISD, its PTAs, and other support organizations. Back to School Sign Up payments may be made with either credit cards or ACH e-checks. Using ACH payments saves you and the PTAs money on transaction fees because the ACH convenience fee is only $1 for your entire order. Credit card convenience fees are based on the total amount of the order and are currently being reviewed.

Click here for a Back to School Sign Up FAQ.